---
Our digital experience is all about access and action to generate greater engagement, more savings and better retirement outcomes.
An employee's projected income is the focal point of the website experience, allowing them to quickly view the percent of their estimated income they are on track to replace. They can also compare their savings to their peers' savings, view their estimated healthcare costs in retirement and take immediate action to make changes.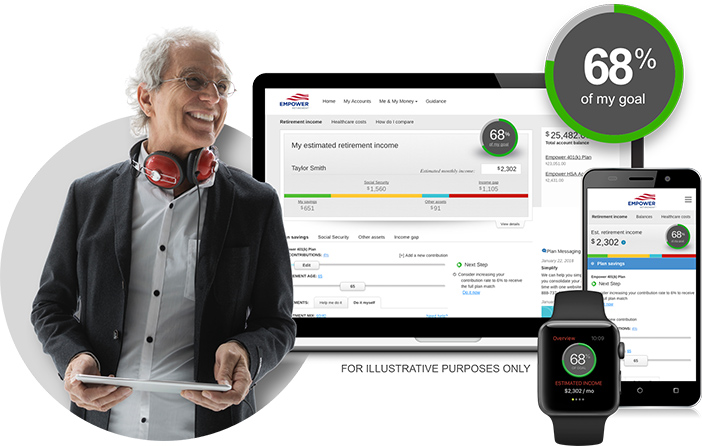 Every interaction employees have with us should create an action — and get them that much closer to realizing their retirement savings goals.
Our participant website is a driving force behind increasing savings rates among employees.1 It gives them a personalized view of their estimated monthly retirement income, and it allows them to quickly and easily see where they stand, how far they may need to go and what steps to consider next.
Features one-click enrollment using personal information
Translates savings into estimated monthly retirement income
Allows ability to easily model different saving scenarios
Offers next steps to encourage increased savings
Provides a convenient way to adjust contributions
Helps simplify planning for future healthcare expenses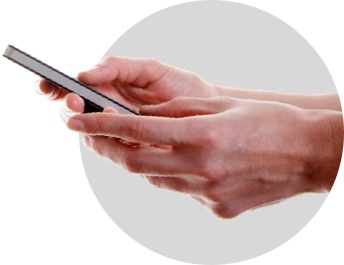 Employees can register their accounts anytime, anywhere from their mobile devices

Empower participants have shown a 16% rise in replacement income while the national average has remained flat4,5
1 Includes time period December 2010 to December 2017; reflects over 8 million web visits, 419 plans, 201,840 participants and over 130,000 deferral changes.
2 Based on enrollment data for the period 1/1/17 through 12/31/17.
3 App Store® ratings and reviews as of June 11, 2018. iPhone®, iPad®, Apple Watch® and App Store are trademarks of Apple Inc., registered in the U.S. and other countries.
4 Includes time period December 2010 to September 2016; reflects 6,820,100 web visits, 569 plans, 300,252 participants and 110,759 deferral changes.
5 Lifetime Income Score Study, 2013-2016.
Not all products and services are available in all states or to all plan sizes and types. Please contact your Empower Retirement representative to determine what is available for your situation.
By electing Empower HSA, plan participants are contracting directly with Optum and its affiliates OptumHealth Financial Services, Inc., for this service. Great West Life & Annuity Insurance Company (GWL&A), or its subsidiaries or affiliates, is not responsible for the services offered by Optum. GWL&A, including its broker dealer subsidiary GWFS Equities, Inc. is not affiliated with Optum.
Not all features are currently available. Some features are under consideration and/or in development. Presented for discussion purposes; non-binding and subject to change without notice.
Health savings accounts (HSAs) are individual accounts offered or administered by Optum Bank®, Member FDIC, and are subject to eligibility requirements and restrictions on deposits and withdrawals to avoid IRS penalties. State taxes may apply. Fees may reduce earnings on account.
Investments are not FDIC insured, are not guaranteed by Optum Bank®, and may lose value.
The content of this communication is not intended as legal, investment or tax advice. Optum Bank is not a broker-dealer or registered investment advisor and does not provide investment advice or research concerning securities, make recommendations concerning securities or otherwise solicit securities transactions. Investments are self-directed, and HSA owners should read the prospectus carefully and consider their individual financial situation, goals and objectives along with the fund's investment objectives, risks, charges, expenses and fees before investing.
All Optum trademarks and logos are owned by Optum. All other brand or product names are trademarks or registered marks of their respective owners. Because we are continually improving our products and services, Optum reserves the right to change specifications without prior notice. Optum is an equal opportunity employer.
Unless otherwise noted: Not a Deposit | Not FDIC Insured | Not Bank Guaranteed | Funds May Lose Value | Not Insured by Any Federal Government Agency