Financial wellness
Addressing your total financial picture is key to helping you live better today while you prepare for the future.
At Empower Retirement, financial wellness encompasses your entire financial experience. It is designed to help you reduce financial stress, make better financial decisions today and feel better prepared about your future.
Successful retirement planning goes beyond your workplace savings plan. Through education and coaching, we provide information and solutions you can apply to your own financial situation.
We explain in simple terms important concepts to help you manage all aspects of your financial picture, including:
Spending — management of ongoing income and expenses as well as debt
Saving — strategies of saving for retirement and other goals
Investing — basic investing concepts that can help you make more informed choices
Protecting — principles around taxes, Social Security, insuring against loss and creating a legacy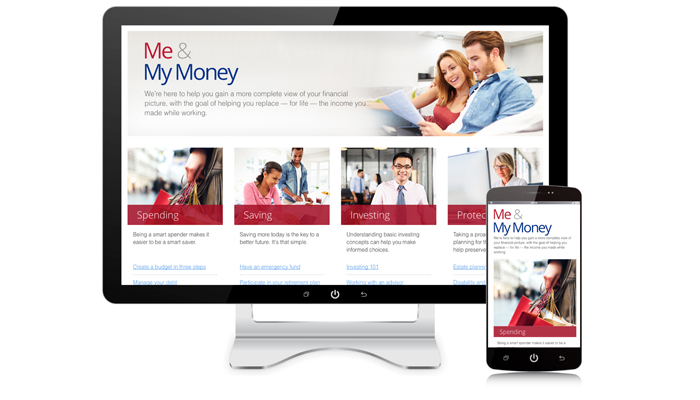 Get started
Investments are not FDIC insured, are not guaranteed by Optum Bank&reg and may lose value.
Educational, communication and operational services regarding Empower HSA may be provided by registered representatives of GWFS. By electing Empower HSA, plan participants are contracting directly with Optum and its affiliates for this service. GWL&A, or its subsidiaries or affiliates, is not affiliated with Optum and is not responsible for their services.
Health savings accounts (HSAs) are individual accounts offered or administered by Optum Bank&reg, Member FDIC, and are subject to eligibility and restrictions, including but not limited to restrictions on distributions for qualified medical expenses set forth in section 213(d) of the Internal Revenue Code. State taxes may apply. Fees may reduce earnings on account. This communication is not intended as legal or tax advice. Please contact a competent legal or tax professional for personal advice on eligibility, tax treatment and restrictions. Federal and state laws and regulations are subject to change.
All Optum trademarks and logos are owned by Optum&reg. All other brand or product names are trademarks or registered marks of their respective owners. Because we are continually improving our products and services, Optum reserves the right to change specifications without prior notice. Optum is an equal opportunity employer.